Introduction of Stainless Steel Pipe Manufacture Processes


Stainless Steel Pipe Manufacture is an intricate process that requires finesse and precision. Like creating a masterpiece from a blank canvas, the process begins by trimming and checking the edges of the metal before it is rolled and welded into a desired size. The material is then cleaned, heat treated, and cold drawn before being cut and sized, and thoroughly tested and inspected. Finally, the product is marked and packaged for delivery.


Introduction
Stainless steel pipes and tubes
are used in a variety of industries due to their durability and corrosion resistance, making them advantageous for most applications.
In this discussion, an overview of the stainless steel pipe manufacture processes will be provided. We will explore the various stages of the process, from the initial quality checks and welding, to the finishing stages such as cleaning, heat treatment, and marking.
By learning about the production of stainless steel pipes and tubes, one can gain an understanding of the various steps required for quality and durability.An understanding of the stainless steel pipe manufacture process is essential to ensure quality control.
Now let introduce the stainless steel pipe manufacture processes step by step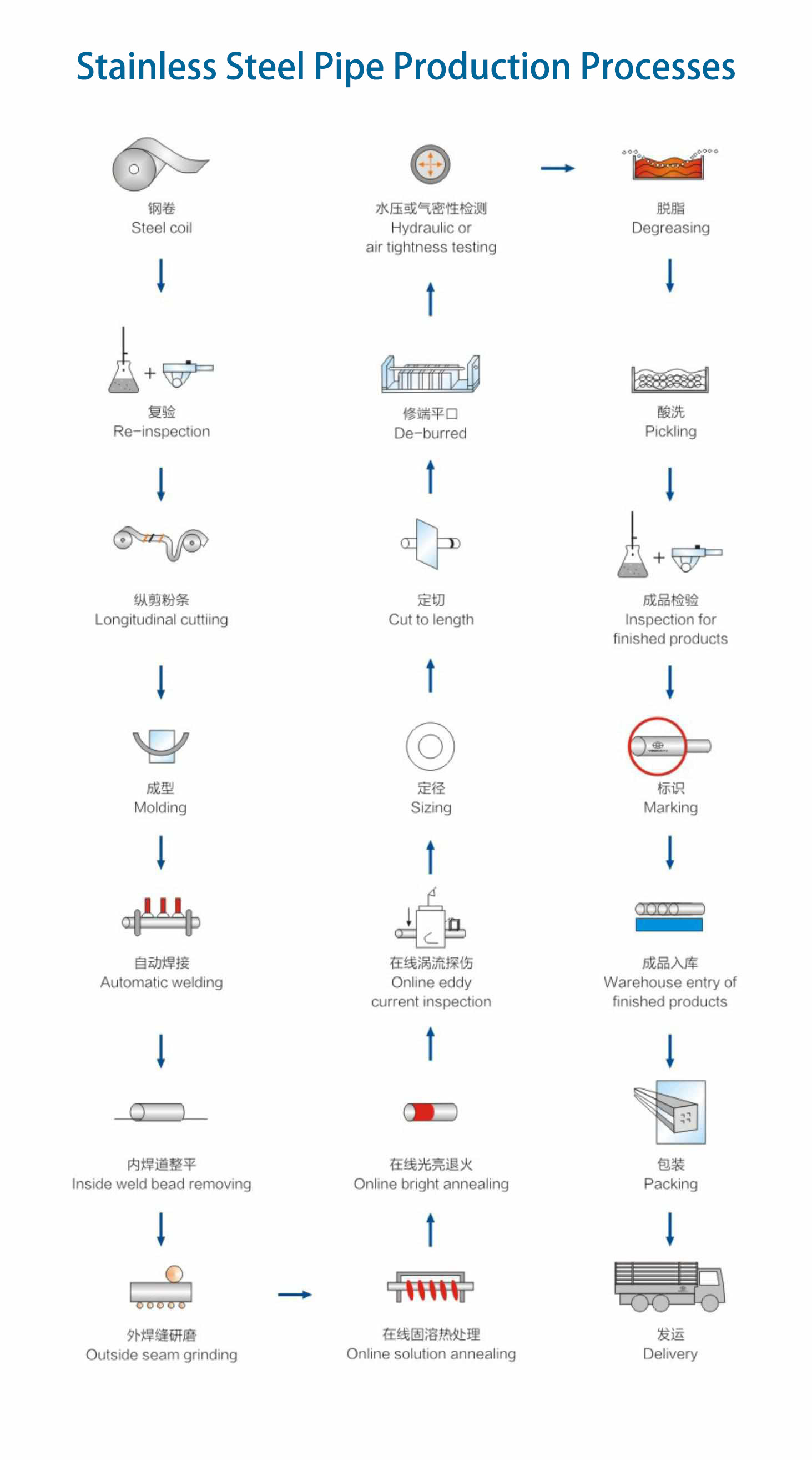 Raw Material Preparation
The first step of stainless steel pipe manufacture is to prepare the raw material. The manufacturer should select the right grade of the stainless steel coil according to the application of the pipe.

Then the stainless steel coils must be cut longitudinally to the required length.The coil is placed on a flat surface and cut using a circular saw or band saw. The cutting process ensures that the edges are neat and smooth, which is important for weld quality. It is important to ensure that the cutting is consistent and accurate.

Calendering is a process in which stainless steel coils are compressed to achieve the desired thickness. It apply pressure to stainless steel coils with roller to reduce the thickness and increase the length. This process is an important part of the stainless steel pipe and tube manufacturing process.

Quality inspection is also needed for raw material preparation. The quality inspector should test the chemical and mechanical properties of the stainless steel coil, and the thickness should be inspected before tube making.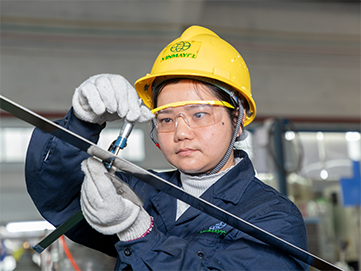 The Rolling and Welding Stage
The second step of stainelss steel pipe manufacture is welding . Strips are fed to the tube mill and pass through rollers to achieve the desired size before a fitted welding machine is used to join the trim edges using TIG welding process. The rolling and welding stage is essential to ensure the production of quality stainless steel pipes and tubes. The process involves a number of steps including quality checks, trimming of edges, welding, removal of scraps and weld beads, and forming of pipes and tubes. It is essential for welders to understand the process in order to properly produce quality products.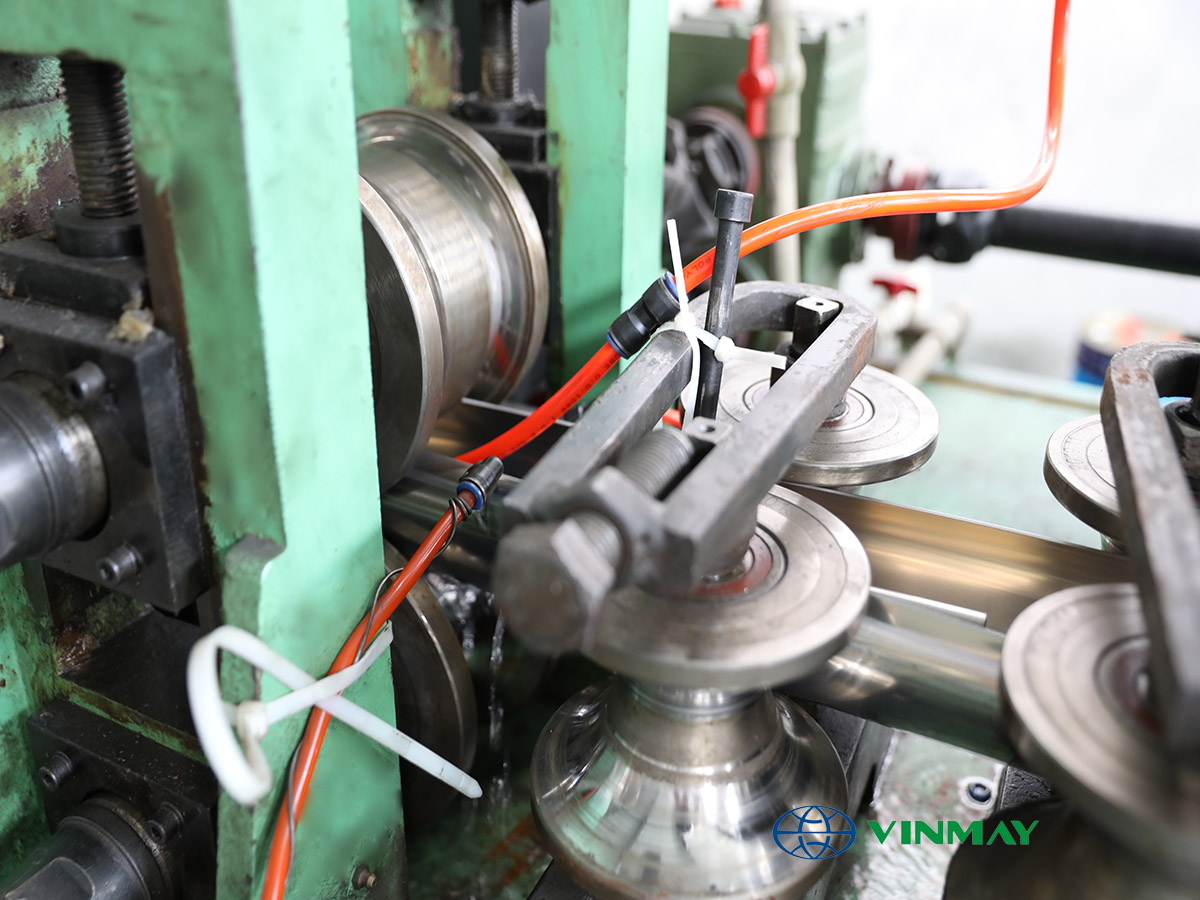 Cleaning and Warming Stage
After the rolling and welding stage, the next step in the stainless steel pipe manufacture is the cleaning and heating phase. Rolled stainless steel pipes are cut to required lengths and then cleaned to rid of dirt and debris. Heat treatment follows to reduce stress caused by both welding and forming. This is done in a rolling hearth furnace. Pipes are then straightened and pickled to remove any scales from the surface.
Cold-Drawing Stage (Optional)
Cold-drawing is a process used to obtain the desired size of pipes or tubes when it is not obtained directly from the mill. It involves coating the pipes or tubes with oxalic and soap solution as a lubricant before they are drawn over die plugs. This reduces the friction and helps to achieve the required size.

The cold-drawing process has several advantages, such as reducing friction, obtaining accurate size, and improving strength. However, it is also a time-consuming and costly process, with fewer options available. For these reasons, it is important for welders to understand the cold-drawing process and its limitations to make informed decisions during the manufacturing process.
The Finishing Process
Stainless steel pipes are typically subjected to surface treatments to improve corrosion resistance and appearance. These treatments may include pickling, passivation, polishing, or coating with protective layers.
Cutting and Sizing
Once the pipes are manufactured and treated, they are cut to the desired lengths using methods such as sawing, shearing, or laser cutting.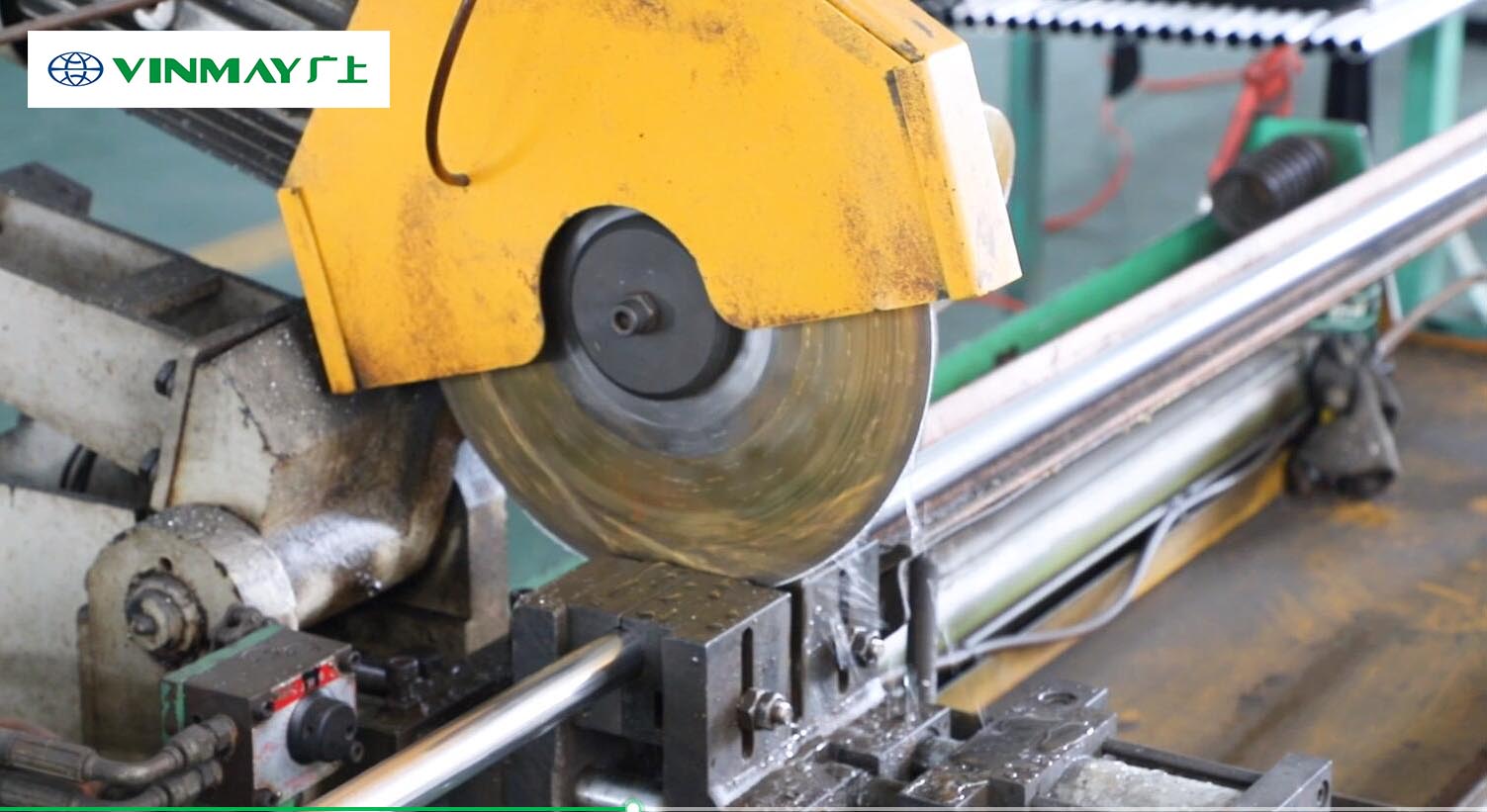 Testing and Inspection
Testing and inspection are performed to ensure quality and accuracy of pipes and tubes. The pipes and tubes are tested for defects, accuracy, and strength. Dimension checks are done to ensure the pipes and tubes are of the desired size and shape. Non-destructive testing methods, such as x-ray examination, are used to detect any flaws in the structure. Eddy current testing is also a non-destructive testing technique used to detect and characterize surface and near-surface defects in stainless steel pipe. Mechanical property testing: flaring, flattening and flange testings will be after tube welding.
Marking and Packaging
Computerized ink jet marking machines are used to mark the pipes and tubes with grade, size, heat number, and inspection stamp. After the inspection andmarking stainless steel pipe will be packed in plastic bag , then several pipes will be packed in hollow plate or weaving bags. Some client will require to packed them into wooden box or steel box. It will helps to ensure that the products are shipped safely and securely.
Conclusion
Stainless Steel Pipe Manufacture is an intricate one that involves a series of steps. From raw material preparation to cutting and sizing, testing and inspection, marking and packaging, every step is essential in ensuring that the pipes and tubes meet the industry standards of quality.

Through careful consideration of each step, welders, weld planners, and employers can ensure that the stainless steel pipes and tubes produced are of the highest quality. The result of this attention to detail is a stainless steel pipe and tube that is reliable, durable, and long-lasting.

With their superior strength and corrosion resistance, stainless steel pipes and tubes continue to be a key component of many industries.
Here's a video of stainless steel pipe manufacture process
Foshan Vinmay Stainless Steel Company
manufacture a wide range of industry standard sizes of stainless steel welded pipes and tube. Our products are strictly produced according to multiple international standards including stainless steel welded tubes for ornamental and mechanical structure purposes (ASTM A554、EN10296-2);
stainless steel welded tubes for heat treatment
(ASTM A249、EN 10217-7);
stainless steel sanitary welded tubes
(ASTM A270、DIN 11850、EN10357)and
light gauge stainless steel water tubes
(EN 10312).
We normally provide
stainless steel grade
of 304 304L 201 316L 430 with a wide size range from diameter 6mm to 219mm and thickness from 0.4mm to 6.0mm. Surface is in mill finish satin finish (180 grit, 320grit, 400grit ) and Mirror Finish (600grit) If you are interested in our product please feel free to contact us. Free sample can be get today!
Thank you for taking the time to go through all the information. If you have any additional questions, please don't hesitate to
contact us
. We are always ready to assist you.Also, don't miss the opportunity to explore our wide range of stainless steel pipe and order free samples today.